Print Length: 454 pages
Publisher: Wings ePress (December 1, 2012)
Genre: YA Paranormal
About: "Lead us not into temptation, deliver us from evil."
Words that ring true for seventeen-year-old Saydi Gardiner upon discovering her ancestry. But if she has doubts, further confirmation is forthcoming and it comes in the form of a wickedly gorgeous Nathanael Braxton, when he steals her heart and cuddles into her soul – the last place the boy should be.
Nineteen-year-old Nathanael's unrelenting good looks aren't the only thing that make him dangerous – and he knows it! However, his caring human side struggles with a loyalty – a loyalty that binds him to the hunt for the soul that will give his family the power they seek. There's only one problem: When he finds her, Nathanael falls in love with his prey – Saydi.
"SOUL CONTROL pulled me in from the first sentence and had me on the edge of my seat all the way to the end. Everything you could want is there…wit, banter, romance (appropriate for the young adult reader) danger, suspense, mystery…and the list goes on. C. Elizabeth's writing is flawless and relatable. 5 stars all the way!"
- – Laura Burks, author of Altered
My Review:  Unique and absorbing, Soul Control is a Young Adult Paranormal that will grab the reader within its grasp and hold tight until the very end.
With well-developed characters and a story line that has not been re-hashed a million different ways, Soul Control will appeal to a wide audience range – both in age and genre.  Saydi is a young adult nearing her eighteenth birthday.  She is like many girls her age – giggly, loves being around her friends, having fun and enjoying life.  However, what Saydi is soon to find out is that she is unlike any other girl her age.  She has a destiny to fulfill – one that will change the outcome of the entire world and each and every person who is in it.
Nathanael and his brothers – hunky and desirable triplets, are new to town.  With their good looks and charisma, the brothers are instant attractions for everyone.  What everyone does not know, however, is that with these brothers, what you see is not exactly what you get and there is an evil that lurks beneath the surface, waiting to break free and change everything.
Good vs. evil is one of the main characteristics and ideas of Soul Control, however there is so much more going on within the story.  There are several back stories of the characters that seamlessly intertwine together and further gives the main story line an excellent depth.  The ability to trust and follow your heart is a difficult thing under normal circumstances, throw in the fact that there is a plot to steal your soul and the one that holds your heart in his hand is suppose to play a major roll in this theft and you may feel as though you are caught in a whirlwind.
Honestly, there are so many aspects and parts of Soul Control that I loved.  The characters are written incredibly well, the twists and turns are plentiful, the main story idea is unique and there is an excellent blend of humor, romance, paranormal and courage.  The emotions within Soul Control are raw and often times gut-wrenching and I could not help but be swept up within the story.  Watching as Saydi develops her talents is incredible and being part of her growth in such a harrowing journey, mixed with the chemistry and relationship between her and Nathanael is something that will not soon be forgotten.
I absolutely loved how this story revolves around the soul – what it means in the bigger scheme of things.  The beauty and frailty of humankind is not often thought of, but is done so in Soul Control – at least for me, while giving life to an incredible story.  The romance is done in a way that is ideal for younger teen readers – very clean, while adding a bit of that yearning.  I cannot wait for the next story in this series.  C. Elizabeth is such an incredible talent and has transitioned from Adult Contemporary with her novels Absolute Obsession and Absolute Obstruction to the young adult perfectly.  Soul Control is a book that I highly recommend to anyone looking for an engrossing and hard-to-put-down young adult paranormal story!
Favorite Quote:  "…You never know what has happened in someone's life to make them who they are, and only until you know them completely will you understand."
Excerpt:
Angie and Becky startled me when they stood up.
"Okay, I'm moving on in." Becky proclaimed, confidently.
"Me too," Angie piped up, gazing nervously around the table.
Todd, Norma and I laughed. "Go for it!" I said.
Angie flopped back down on the seat, defeated. "I'm such a chicken."
Becky tugged on her hand. "Angie come on! What's the worse they could do? Say no?"
Angie slowly stood and drew her shoulders back to show her strength, even if it was fake… but she was going to do it and off they went.
For some reason, the closer they got to the new boys, the harder it was for me to breath. My nails dug into Todd's leg.
"Ouch!" he yelped, yanking my hand away. "That hurt!" He rubbed where my nails surely left a mark.
Without looking his way I apologized. My attention stayed with Becky and Angie as they made their way through the crowd.
It seemed to take them forever to get to the table, and when they did, all three boys looked up and smiled. Segra, Jocelyn, and Mattie sneered. Then Segra said something that had Mattie and Jocelyn laughing and giving her high fives.
The triplets didn't seem to like the little exchange and flashed a quick look of disapproval at each other. All at the same time they sat straight up, distancing themselves from Segra's little group — well, at least as a far as you can distance yourself when you're sitting right beside someone in a cramped booth.
Something Angie said to them caused all three to take stock of our table. My first reaction was to cast my eyes down, that is until the one sitting against the wall took hold of them…
~ * ~
…A sea of dark ocean took me through caverns and caves. Being under water didn't bother me, and my chest rose and sank as if I were on land. Something shimmered on the ocean floor, looking completely out of place. When I reached for it and cradled it in my hand, the crystal felt smooth and comfortable — soothing.
~ * ~
"Earth to Saydi!"
Someone shoved me.
"Saydi! Are you already daydreaming about them?" Todd snarled hotly.
It was easy to ignore Todd when the triplet's face came back into full view, considering my imagination was playing tricks on me… his features twisted in such a way that it made my skin crawl — then it was gone, leaving behind a beautiful smile as he nodded once at me in a greeting.
"Saydi, are you all right?" Becky asked.
"Um, yeah, good." I let out a nervous giggle.
They all stared with shocked looks.
I eased back in the seat. "What?"
The fact that all their eyes looked down at the table, then back up to me, enticed me to look too. The napkin in front of me had a drawing on it — a tear drop, with sun rays billowing out and ghosts floating away from it.
"What a cool drawing. Who drew it?" Clearly, I had five heads, at least that's how they were making me feel by the way they were sizing me up.
"You did," Todd said, raising a curious eyebrow.
Impossible! My only artistic side went as far as reading. I preferred sports. "I can't draw."
Becky plucked the pen from my hand. "Apparently, you can."
"What was that?" Norma whispered through her teeth, inspecting my eyes.
"What was what? You guys are acting all weird." Todd snorted. "You go off into some far off land and start drawing a spooky picture, and you say we're acting weird?"
"I wasn't daydrea…"
"Have a good night, Saydi," said a dreamy, deep voice.
I whipped my head in its direction. One of the triplets, the one with green/blue eyes, knocked twice on our table and smiled directly at me as they passed. My tongue tied up in a knot, giving me no ability to spit, never mind talk. The only thing I could do was gape while all three brothers smiled and waved when they walked out the door… and to add to my already moronic reaction, I was certain drool played a part. I flopped my forehead on the table and moaned, "What is wrong with me?"
"That was Nathanael!" Angie gushed.
"Saydi, you can stop drooling," Todd barked. No! I didn't! Testing, just to make sure, I licked my lips then threw a look at him. "Todd!"
"What? You were." Then he shoved the napkin with the picture in my face. "Here, why don't you run after him? Maybe he'll ask you out!"
The way he was acting was starting to piss me off, and to let him know, I formed each word perfectly as I said them. "Todd, what is wrong with you?"
"I'm just saying." Crossing his arms, he refused to look at me.
Shaking my head, I turned back to Becky and Angie wanting information. "So?"
Angie blushed, nearly bursting at the seams. "Did you not see them?"
I bobbed my head, smiling, the drawing and Todd's outburst forgotten.
Angie angled in close. "Well, the one against the wall… His name is Joshua, and you already know Nathanael." She giggled. "And the one on the end was Job." Then she arched in closer yet, as if to tell me a huge secret. "Weren't they gorgeous?"
"Oh please!" Todd huffed.
"Oh shush!" Norma fanned her hands at him. "Angie, you can't have all of them," Becky informed. The way she said it led me to believe it wasn't said all in fun. I picked up on the little bit of bitterness that had snuck into her tone.
Angie either ignored it or didn't catch it. "Darn right, I can!" she insisted.
All us girls laughed — Becky used her fake one.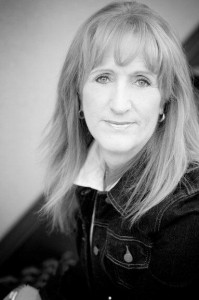 About C. Elizabeth: C. Elizabeth lives in St. Albert, Alberta, Canada and during her short writing career she's learned a lot about herself, sometimes to the point that she wonders how the heck she got this far in life and know so little about herself.
For the majority of her life she dabbled in many things, such as drawing, photography, sewing, only to find that after a while, she would lose interest, but writing is a different story — it found her and continues to be an addiction, as well as a most wonderful, incredible passion.
Not only does she write novels, but she does whatever she can to hone her craft. Such as attending the New York Pitch Conference, seminars and the like, as well, she writes for online magazines on the topic of… you guessed it, writing.
Her latest book is the YA paranormal romance, Soul Control.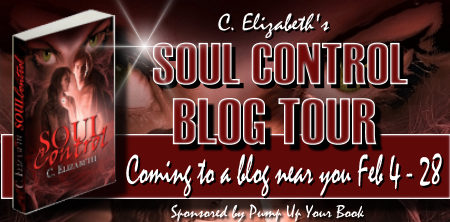 Check out these other great blogs also on tour with C. Elizabeth and Soul Control!
Monday, February 4 – Guest Blogging at The Caffeinated Diva Reads
Monday, February 4 – Book Review at The Caffeinated Diva Reads
Tuesday, February 5 – Cover Envy at As the Pages Turn
Wednesday, February 6 – Book Review at Cafe of Dreams
Thursday, February 7 – Guest Blogging at What's on the Bookshelf?
Friday, February 8 – Book Review at Must Read Faster
Friday, February 8 – Guest Blogging at Paranormal Haven
Monday, February 11 – Book Review at Good Choice Reading
Tuesday, February 12 – Interview at Between the Covers
Wednesday, February 13 – Guest Blogging at Lori's Reading Corner
Thursday, February 14 – Book Review at Reader Girls Blog
Monday, February 18 – Book Review at Literary Getaway
Tuesday, February 19 – Book Review at Waiting on Sunday to Drown
Wednesday, February 20 – Interview at Examiner
Thursday, February 21 – First Chapter Reveal at Beyond the Books
Friday, February 22 – Book Review at My Cozie Corner
Monday, February 25 – First Chapter Review at Literarily Speaking
Tuesday, February 26 – Book Review at Paperback Princess
Friday, February 28 – Book Review at Miki's Hope