My Wolf's Bane by Veronica Blade
Paperback: 365 pages
Expected publication: February 1st 2013 by Crush Publishing, Inc
Genre: YA Paranormal
Series:  Book 1 in the 'Shapes of Autumn Series'
NOTE FROM THE PUBLISHER: As with any Veronica Blade book, this is a ROMANCE NOVEL, meaning it's romance FIRST and everything else is secondary. Rated PG-13 for sexual situations and mild profanity.
Different species. Mortal enemies. It'll never work, but they'll die trying.
Autumn Rossi thought she was a normal teenager. Suddenly, she can outrun every critter in the forest, making her wonder if she's even human.
When the new guy at school, Zack de Luca, witnesses a questionable scene, he unfairly pins her as stuck-up. He acts like he hates her, yet he keeps bailing her out of trouble. Not only is Zack both insufferable and irresistible, he seems to sniff her anytime he gets close.
As passion flares between them, Autumn isn't sure which is more dangerous: her psycho ex-boyfriend, or falling for Zack — who's risking his life just by being near her.
My Review:
Un-freakin-believable!!  That is the first word that pops in my mind to sum up My Wolf's Bane by Veronica Blade.  I will be honest, I absolutely loved her debut novel Something Witchy This Way Comes and have been dying for the follow-up to that one.  Well, My Wolf's Bane – a completely new series – has completely blown that one out of the wooded forest.  This is truly one of the best YA Paranormal novels that I have ever read, and I have read several.
What makes My Wolf's Bane stand out to others that I have read?  The story line is a fairly unique one – a young werewolf (yes, there are tons of werewolf stories out there, but not like this one) and a young girl who is discovering insane changes to her body, mind and life, come together in a flurry of dislike and distaste.  At least that is what they try so hard for – to dislike one another.  Zack is 18 and a senior.  He is a werewolf who is cherishing his final days with his dying mother.  Autumn is 18 and has always been sheltered to the point of being smothered by her parents.  When a sudden change in attitude occurs with her parents, Autumn finds herself trusted to be alone for a few weeks while her mother and father are off traveling for her father's job.  This is nothing but a huge relief and shock for Autumn.  This also leaves the perfect opening for Autumn to try out the special abilities that she has recently obtained.
As antagonism turns to a truce of sorts between Zack and Autumn, they find themselves becoming what resembles friends.  This, however, is kicked up a few notches when Autumn's ex becomes insanely jealous and threatening to Autumn.  Zack takes it upon himself to protect Autumn, as well as help her in her new-found discoveries and talents.  The chemistry between the two doesn't take long to sizzle and the tension between several of the characters to go from steamy to boiling.  The story explodes into one that will not soon be forgotten and will long live in the hearts and minds of the reader.
From the very beginning I was hooked on Zack.  He is all male, but sensitive and caring – you know the type that every female yearns for – alpha male mixed with bad boy mixed with sensitivity – yep, that is Zack to a "T".  I questioned my liking for Autumn in the very beginning, unsure if she was going to be the snobbish type or not.  That, opinion, however, was quickly rectified and I found myself adoring her.  She is sassy, intelligent, brave, stubborn and takes no guff from Zach – well, with the exception of the "does he, doesn't he" conflict that she constantly goes through with him.  Their chemistry is pure fun laced with that yummy underlying steam that teases rather than pours itself out on the pages.
Veronica Blade has such an amazing ability to transform worlds, sucking the reader into the story, making them yearn and crave, fly through pages and take all the world's troubles away.  Her characters are incredibly well developed and so true to life that the reader cannot help but feel as though they are right there in the story.  My Wolf's Bane is the perfect mixture of paranormal, suspense, romance and just pure fun.  From scenes of "sniffing" to scenes of flying through the air with speed, there is never a dull moment in this story.  I absolutely loved Zack and Autumn and cannot wait for the next in the series to read more about them – yes, I am begging for a quick release, lol.  The ending was perfect – bringing contentment, yet leaving an ocean of questions rolling on the waves of uncertainty.  I cannot recommend this one enough and have added it to my favorite reads of 2013, hands down!
Favorite Quote:
As I moved forward to close the space between me and the person in front of me, I felt him move up as well.  He was so close, I could feel the warmth radiating from him.

I spun when he leaned into me and inhaled.  "Did you just sniff my hair?"

His brows rose in innocence.  "Why would I do that?"
Excerpt:
I tossed the makeup bag into my backpack, slung it over my shoulder and whipped open the door. Barreling out of the bathroom, I slammed into what felt like a walking boulder. I ricocheted off the human rock and my backpack hit the wall behind me, throwing me off balance and pitching me forward into the hard, linoleum tile.

My palms cushioned my fall, but I winced as pain spiked up my wrists. On all fours, I lifted my chin and peeked through my curtain of dark hair. He wore a black tee that molded to his wide, muscular shoulders and jeans that fit over powerful legs.

Wow. I'd thought my soon-to-be-ex-boyfriend was cute, but this guy…

"You okay?"  The hottie asked in a sexy, gravelly voice, stretching a hand toward me. His hand wrapped around mine and effortlessly pulled me up, as if I weighed no more than my calculus book. Maybe it was the throbbing in my limbs or the warmth of his hands on my elbows. Or maybe it was his earthy scent invading my senses, but a wave of dizziness hit me and I tipped forward.

His hands shot to my hips to steady me. "Easy there."

My palms rested on his hard biceps for support as I stared into his deep, green eyes. Lord, he smelled good, like the forest after rain.

My breath hitched.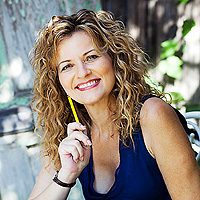 About Veronica Blade:
Veronica Blade lives in Southern California with her husband and children. By day she runs the family business, but each night she slips away to spin her tales. She writes stories about young adults to relive her own childhood and to live vicariously through her characters. Except her heroes and heroines lead far more interesting lives — and they are always way hotter.