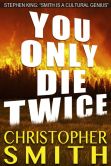 You Only Die Twice by Christopher Smith
File Size: 582 KB
Print Length: 190 pages
Publisher: Fifth Avenue Productions, Inc. (December 23, 2012)
Genre: Horror, Thriller
About: In her past, Cheryl Dunning died once. A violent act killed her, but heroics brought her back. Now, if she can't save herself from two serial killers hunting her in the Maine woods, she's about to die again, this time from two men armed with a Bible, guns, a deep belief in God, and their twisted interpretation of his word.
Fueled by their righteous fury, they are determined to find Cheryl and murder her for what they perceive as her "life's worth of sins." What they don't know is what Cheryl knows. She's a Maine girl, born and raised–and she knows how to use these woods in ways that might, if she's lucky, turn them against each man.
From the #1 international best-selling author of many thrillers, including "Fifth Avenue," "You Only Die Twice" is a blistering page-turner first, and a comment on Biblical interpretation second. It's Christopher Smith's most controversial and gripping novel to date.
*Warning: "You Only Die Twice" is not for the faint of heart. This is a story of madness and the fight for survival, and it depicts realistic adult situations without hesitation.
Excerpt:
CHAPTER ONE

At first, all she was aware of was a cold wetness against her cheek and explosions of light along the periphery of her vision. She could hear someone talking to her–a man–but she couldn't understand what he was saying.

She felt her body being jolted. Kicked. Punched.

Her head hurt.

There was blood in her mouth. And something else. Something thick and round, which made it difficult for her to breathe.

Her left leg began to twitch.

The flashes of light continued until the pain in her head became too much for her to bear.

Something was shoved into her right hand. She felt her fingers being closed around it and then, somehow, the object was attached to her hand.

She wondered what it was. She wondered where she was. Had she died again? Or was she about to die again?

She knew all about death.

She passed out and went into a light of her own.

CHAPTER TWO

When she woke again, Cheryl Dunning blinked and though her head was still thick and her eyesight still cloudy, she was able to process that the darkness she now saw had nothing to do with death or being unconscious, but everything to do with that fact that it was night.

She was outside and she was alive, but where was she? How did she get here? She tried to make sense of it, tried to remember what events led her to this, but she couldn't remember anything.

Her mind was blank.

She needed to leave, get home. But where was home?

She tried to raise her head, but the effort was excruciating and she realized that she couldn't. She put her left hand beneath her breast and tried to push herself up, but she cried out in pain and slumped back onto the ground.

She wasn't able to move. At least not now. Instinct kicked in. That part of her that could still reason realized that she might have broken a bone or, worse, bones. She needed to be careful. It felt as if someone had pummeled her.

As she lay there, it came to her that she was on a moist forest floor. She could smell damp timber, the rot of whatever lay beneath her, and she was aware that it was raining. Water tapped against the side of her cheek and soaked her clothes. It wasn't a heavy rain, but it was steady, and she was alert enough to know that her situation was dire.

She was alone and exposed to the elements in some unknown woods. Her thoughts turned to the wild animals she knew were around her. Circling her. Smelling her. Wanting to tear her apart and eat her. The fear she felt at that moment made her want to get up and run, but her body wasn't having it. Something was wrong with her head. It wouldn't stop throbbing. She felt as if it had been kicked.

And so she lay there, a prisoner to whatever had happened to her. She listened to the night and occasionally heard rustling sounds in the woods. What would prey on her tonight? Something would. She felt utterly without hope and knew that she'd be dead before she had the chance to help herself.

She closed her eyes. She tried to remember her life, but there was no life to remember. It was as if someone had erased it from her mind and left in its place a pain she had never before experienced. It consumed her before and it did so again.

She slipped into unconsciousness.

CHAPTER THREE

Morning came and with it, the end of the rain.

Cheryl Dunning opened her eyes, and this time she could see clearly. There was no fog, no haze, just clarity. Her body still ached, but the pain wasn't excruciating. For a moment, the idea that she'd made it through the night alive gave her back the hope she lost the night before.

With one side of her face planted on the wet ground, she looked around and saw that she was in a wooded area. A forest. Above her was a canopy of sunlit trees, from the fiery blaze of maples being seduced by autumn's crisp touch to the evergreens that would challenge the pending winter, stare it down and see it through to spring. It was late September in Maine, pine needles were the carpet on which she lay, and she was chilled to her core.

She also was thirsty. Her mouth was caked with the coppery taste of dried blood and she wished she was near a water source, if only so she could rinse out her mouth.

How had she gotten here? She closed her eyes, thought back hard, and the pieces of a puzzle that was lost to her yesterday started to form.

Her last memory was spending time with her friend Patty at their favorite local bar, The Grind, doing shots to celebrate Patty's thirtieth birthday, which she called a landmark event because she said she never thought she'd make it to twenty-seven. Not with her luck.

Cheryl rarely drank, but Patty coaxed her into joining her because it was her birthday. Not wanting to spoil her friend's fun, Cheryl went along with the celebration because Patty was a lifelong friend and after all she had been through in this town, she deserved a fun night out. Together, they did several shots of tequila even though Cheryl knew she'd pay for it the next day.

But not like this. This didn't make sense. Why was she here? Who brought her here?

She needed to get up. Needed to get out of here. She remained on her stomach and carefully lifted one of her legs behind her. It was fine. She moved her other leg, and though it hurt like hell, it was clear that nothing was broken. She went to lift up her right hand and it was at that moment that she saw the cell phone strapped to it with a rubber band.

Confused, she stared at it.

Then it buzzed to life.

Startled, she lifted her head off the forest floor and some of the pine needles that were stuck to her face tumbled off. With an effort, she sat up, swiped away the rest of the needles with her free hand, and the cell phone buzzed again.

She tore it off and tossed it away. She looked around the forest and could see steam rising up in those areas where the sun made its way through the trees to warm the cool, wet ground. She felt as if she was being watched. She listened and heard leaves falling from the maple trees. A light breeze touched her back.

And the phone buzzed again, vibrating just ahead of her on the ground. It seemed to tremble, not unlike she was now.

And Cheryl Dunning of Bangor, Maine, who for ten years worked as an underpaid secretary in the English Department at the University of Maine and who never made it out of college for reasons only few people knew because of the deep shame that had crippled her for years, knew she was in worse trouble than she ever imagined.
My Review:  Edgy, gripping and timely, You Only Die Twice is a story that will hold you in its clutches from the first word to the very last.
I always love when I can find and delve into a great psychological tale.  I have always been curious about how the mind works and why people act and do what they do.  With You Only Die Twice, author Christopher Smith takes the reader deep into the mind of a religious fanatic with a huge God complex.  Kenneth has always been a bit different – with that "bit" turning into a lot as he got older.  Always standing out from others with eyes that could only be described as "dead".  Always a loner until he finds a soul mate, if you will, in fellow religious fanatic Ted.  Together, the two embark on a journey of cleansing the world of whores and fulfilling what God has called upon them to do.
Cheryl Dunning has had an anything-but-easy time of life.  After a nightmare experience in College where she died for the very first time, she has always basically kept to herself – working and more or less secluding herself from dating and the social scene.  On a lark, she goes out one evening to celebrate her friend's birthday and her life takes a terrible and lethal turn.
Christopher Smith takes the reader on a cat-and-mouse, life threatening spiral the entire way through You Only Die Twice.  He gets into the mind of the psychotic and allows the reader into the psyche of the hunted, as well as the hunter.  As I read, the descriptions of the surroundings, the feelings of the characters and the actions of what was taking place was so well written that I truly felt as though I was there.  Mr. Smith seamlessly intertwined pieces of the characters' past into the story as well and this allowed me to really feel as though I was able to get to know them – the "push" behind their actions as well as their thought process.  These facts allowed the story to come alive for me and had me racing through the pages to see what was going to happen next.  I also love the short chapters.  For me, short chapters add an intensity that keeps me reading longer and makes it harder for me to put the story aside.
Another aspect of this author's writing of this story was the apparent research that he did to achieve this level of believability of the story.  The majority of You Only Die Twice takes place in the secluded and deadly woods.  Throughout, Cheryl must rely on what her father and grandfather have taught her about survival in the woods.  The idea that Mr. Smith did his research on the "shoulds" and "shouldn'ts" of such a scenario adds a wonderful depth to the story and truly adds a terrifying aspect.
This was the first book by Christopher Smith that I have read and I greatly look forward to reading more of his work in the very near future.  This is an author that definitely has a talent for bringing intense stories to life and dragging the reader right into the pages.  There were a few grammar/mechanical errors that I found throughout, but those did not take away from my overall enjoyment of the story.
I highly recommend You Only Die Twice to anyone who is a fan of a great thriller that will make you toss aside the idea of sleep to see what happens next!
Favorite Quote:
Since then, they had murdered sixty-eight women, all deemed worthless whores by two men who believed in their souls that cleansing the world of these women was their divine right and purpose.
About Christopher Smith:
Christopher Smith is the #1 international best-selling author of "Fifth Avenue," its sequels "Running of the Bulls" and "From Manhattan with Love," as well as "Bullied," "Revenge," "Witch" and "War," all four of which deal with the subject of bullying. His newest thriller is "A Rush to Violence," which will be a three-book series. "Park Avenue" hits at the end of 2012. For fourteen years, Smith was the film critic for a major newspaper in the Northeast. For eight years, he appeared weekly on NBC affiliates, and two years nationally on the E! network. He has written over 4,000 reviews and he has been named Best Critic for 2010 by the MPA. He has published two previous books in his Netflix "Queued" series, which are compilations of hundreds of his film reviews. He lives in Maine.
Visit the following links for more info and connect with Christopher Smith:
Facebook ~ Amazon ~ Website ~ Twitter ~ Goodreads ~ Barnes and Noble