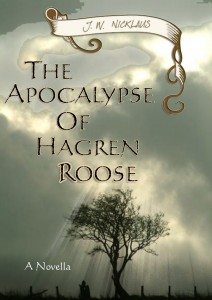 The Apocalypse Of Hagren Roose by J.W. Nicklaus
File Size: 359 KB
Print Length: 105 pages
Sold by: Amazon Digital Services, Inc.
About:  Once a small-town success and happy family man, Hagren Roose finds his slide backwards at once abrupt and wrenching. His small-town mentality sets him on a journey of his own making, of which he has no control—and
only he can atone for.
Hagren Roose forgot the Golden Rule
Ever wondered what your choices and decisions have in store for you?
Karma has its place in the scope of human beliefs, but karma extends principally to mortal life as we know it, applies to a conscious, sentient person. Push your imagination a bit: what might we be in for when we pass on?
The Apocalypse of Hagren Roose, coincidentally, is just such a story. Follow Hagren, a native son of a small town with an equally small collective mind. Hagren's failure to step beyond the antiquated prejudices he grew up with have caused a rift between himself, his family, and everyone else around him. Hagren Roose has plenty to answer for — upon his answers rest his, and his family's, future.
My Review:  The Apocalypse of Hagren Roose by J.W. Nicklaus is not a light read, nor is it a story that will quickly leave your mind.  Instead it is a story that delves into a world of regrets and reminds us to step back and reassess ourselves and our lives. The life that we lead and how we treat those around us.  We
may make mistakes but we can learn from those mistakes and better not only ourselves but our lives.
Mr. Nicklaus uses lyrical prose and vivid imagery to bring his story to life.  The characters are easy to envision and connect to, lending an extra quality to the overall effect of the story.  The Apocalypse of Hagren Roose is a story knitted together with thick strands of inspiration.
While I was reading, I was reminded a bit of It's A Wonderful Life meets Scrooge, with an added unique twist that is all J.W. Nicklaus.  This is indeed a wonderful and unique story that will remain with me for some time to come.  I highly recommend it to anyone looking for a wonderful and thought-provoking read.
Favorite Quotes:  
What little dozing she could do at home was paltry at best; a heavy conscience seldom rest well, no matter how soft the pillow.
~~~~~~~~~~~
The pair journeyed forward, the surroundings soulless yet wit

h a scant trace of warmth, not unlike an embrace.  The disconcerting balance between calm and apprehension that draped itself around everything, and the groaning weight of his surging thoughts all began pricking at him, a white rose with nary a place along its stem with which to hold it.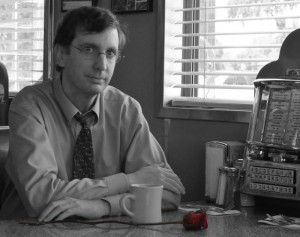 About J.W. Nicklaus: J.W. Nicklaus attests to living somewhere between the city closest to the Sun and upon the precipice of Hell—but the winters are mild in Arizona. An avid reader and peerless amateur philosopher, he is "DNA and energy. I am cellular and soulful. I am shadow and light. I am carbon and water . . . and I am stardust. As are we all." His singular ambition is simple: to leave the world a slightly better place than when he came into it.
The Apocalypse of Hagren Roose Virtual Book Publicity Tour Schedule
Monday, December 3
Guest Blogging at A Year of Jubilee Reviews
Tuesday, December 4
Book Review at Sharon's Garden of Book Reviews
Wednesday, December 5
Character Dear Santa Letter at Literarily Speaking
Book Featured at Acme Authors Ink
Thursday, December 6
Guest  Blogging at Celtic Lady's Reviews
Guest Blogging at Moonlight Lace & Mayhem
Friday, December 7
Interview at Broken Teepee
Monday, December 10
Guest Blogging at Denyse Bridger's Fantasy Pages
Tuesday, December 11
Book Review at Rainy Day Reviews
Wednesday, December 12
Book Review at The Book Connection
Guest Blogging at Miki's Hope
Thursday, December 13
Book Review at Cafe of Dreams Book Reviews
Friday, December 14
Guest Blogging at Lori's Reading Corner
Interview at Books Books the Magical Fruit