Monthly Archives:
November 2012
Sourcebooks is feeling the spirit of the holiday season and we want to share it with you! We're running our biggest promotion yet: daily discounts on our most popular ebooks, starting December 1 and lasting through December 25!
 When you sign up, you'll be notified every morning of which book is going on sale that day. And, when you sign up to receive our daily email notifications, you'll automatically be entered to win two ereaders: one for you, and one for a friend or family member.
In addition, we'll also be giving away more fun prizes every single week, from candy, to gift baskets, to books. Sign up today! You'll be able to see the featured books once you've signed up.
I am nearly finished with this one and am having so much fun with it!!!  If you haven't read the first book, Diary of a Mad Fat Girl, you definitely should!!!  There is so much humor throughout that one cannot help but laugh out loud.  Do be prepared, however, because neither one of these books is for the easily offended, lol!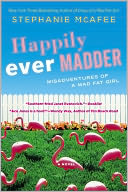 Happily Ever Madder by Stephanie McAfee
Diary of a Mad Fat Girl's plus-sized spitfire Graciela "Ace" Jones returns in a hilarious new adventure from New York Times bestselling author Stephanie McAfee.
Ace has left the tiny Mississippi town of Bugtussle for the palm fronds and mojitos of Pelican Cove, Florida. She's finally opening her long-dreamed-of art gallery, is kick-starting a life with her fiancé, Mason, and has vowed to leave her straight-talking, sassy ways behind her. From now on, she's going to be as sweet as sugar. Unfortunately, something comes along to sour her plans.
That something is Mrs. Lenore Kennashaw and her coterie of crones. They're a bunch of snippy, snarky, and just plain mean 'ol ladies who aren't quite as smart or rich as they'd like to think they are. But that doesn't stop them from treating everyone else like second-class citizens. And when Ace inadvertently takes some of the steam from Mrs. Kennashaw's stride, she becomes their #1 enemy. But with the support of a new group of fabulous friends, as well as her friends from Bugtussle—and her always-faithful chiweenie Buster Loo—Ace will find a way to make it, even if she has to throw some weight around…
What are you reading?!