Can you please tell readers a bit about yourself? What you like to do for fun, types of things you like to read, your favorite "hide outs", etc.
Thanks for having me here today! I wish I had more time for 'fun' things. Life is super busy with 5 kids, ages 9-19, a husband, 2 dogs, 2 cats, a writing career, and a second career with Entangled Publishing.
However, that being said, I recently took water skiing lessons! I don't have a bucket list, but I'm thinking of starting one. I'm not sure what else will be on it, though! I love to read just before I go to sleep. The house is quiet and I can slip into a book for a wile, which I love. I've got eclectic reading taste—I love mysteries, romance, women's fiction, up market fiction like The Help, which is one of my favorites.
My favorite hide out… my study! It's colorful and all mine 
What is your biggest pet peeve?
Hmm, I had to think about this! I suppose when people don't listen when you're talking, then say, "huh?" That bugs me!
Do you have any "have to haves" while writing? Be it a "good luck charm", a certain place to write, certain drink, etc?
I used to be able to write with distractions. Not so much anymore. I need quiet so I can really focus and get absorbed in the story. I love my coffee in the morning, always need my special insulated Starbucks coffee cup which I use for ice water.
Can you give readers a glimpse inside Sacrifice of Passion?
Sacrifice of Passion is the first book in the Deadly Legends Trilogy. It takes place in the small town of San Julio, Texas, a place that is supposedly cursed. Killings and the legend of chupacabra are at the center of the story.
My husband is Latino. The legend of la Llorona was my first foray into Mexican legends. I found them fascinating! Chupacabra is urban legend, and the little creatures are creepy—perfect for a romantic suspense novel!
If you had to sell readers on a reason to read Sacrifice of Passion in 7 words or less, what would they be?
That's tough! How about this:
Reunited lovers fight the legend of chupacabra.
What is a book that you have read and loved so much that you wish everyone would take the time to read it?
The Help. So good and powerful, and a real triumph of humanity.
If you could have one superpower, what would it be and why?
Fun question! I love the time charm Hermione has in one of the Harry Potter movies so that she can accomplish more. I think my super power would be to conquer time!
About Sacrifice of Passion
Texas rancher, Vic Vargas, finds himself facing more than his stubbornly silent son when the chupacabra, a supposedly mythical blood‐sucking beast, starts killing his livestock—and stalking Delaney West, the town's newly returned veterinary assistant, the sensual woman who ran from the altar and broke his heart twelve years earlier.
Reluctantly, he seeks her help to get to the bottom of the disturbing animal mutilations, only to have her break through to his sullen son…and rekindle the love he'd thought was lost forever. But her refusal to share a terrible secret sends her running straight into the lair of the chupacabra, plunging her back into her worst nightmare, and forcing them both to confront the wrongs of the past—in order to stay alive for the future they desperately want.
Get your copy of Sacrifice of Passion at:
Also available from Melissa Bourbon Ramirez: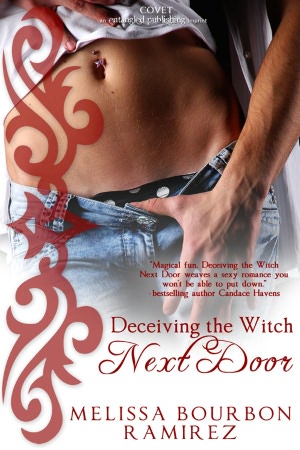 Deceiving the Witch Next Door
Storie Bell has a little secret—she's a witch. But magic hasn't exactly kept her life from being a complete mess—her love life is non-existent and the town thinks she's a total nutter. Plus there's her neighbor Reid Malone who runs hot one minute and cold the next.
Reid Malone can't wait to escape Bloomington, Texas. Unfortunately, he's stuck where he is unless he helps his father hide a very illegal secret. The only key to Reid's freedom lies with the eccentric Storie…and he'll do whatever it takes to get the information he needs from her.
But Reid's holding something back. Something big. And if he's not careful, he'll find out exactly what happens when you try to deceive a witch…
Bare Naked Lola
Going undercover is second nature for Private Investigator Lola Cruz, but she's out of her league when the case of a murdered Royals Courtside Dancer leads her to a local nudist resort. Parading around the sidelines of Sacramento's professional basketball scene in a barely-there cheerleading outfit is one thing—but parading around in nothing but smile? If she has any chance of hiding this from her traditional family and on-again/off-again boyfriend Jack, she's going to have a lot more than her duct tape bra and killer dance moves to keep under wraps….
Get your copy of Bare Naked Lola at:
Amazon ~ Barnes & Noble ~ BAM ~ Book Depository ~ Powell's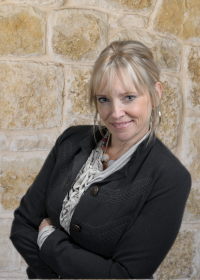 About Melissa Bourbon Ramirez
Melissa Bourbon, who sometimes answers to her Latina-by-marriage name Misa Ramirez, gave up teaching middle and high school kids in Northern California to write full-time amidst horses and Longhorns in North Texas. She fantasizes about spending summers writing in quaint, cozy locales, has a love/hate relationship with yoga and chocolate, is devoted to her family, and can't believe she's lucky enough to be living the life of her dreams.
She is the marketing director at Entangled Publishing, is the author of the Lola Cruz Mystery series with St. Martin's Minotaur and Entangled Publishing, A Magical Dressmaking Mystery series with NAL, and is the co-author of The Tricked-out Toolbox and two romantic suspense titles.
Visit Melissa at her website | Twitter Page | Facebook Home | Goodreads | and Books on the House, a website bringing books and readers together!